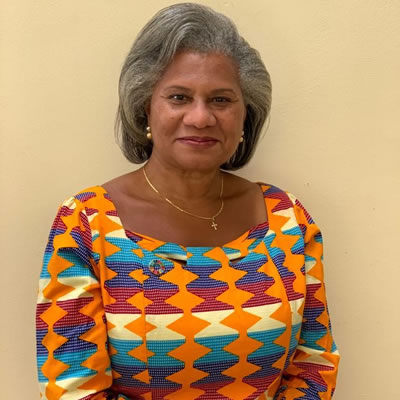 Dr. Julitta Onabanjo
Regional Director for UNFPA East and Southern Africa
Dr. Onabanjo joined UNFPA in 1995 as a National Programme Officer and thereafter as a Programme Specialist in Swaziland and Kenya, before she served at UNFPA Headquarters as Technical Advisor, HIV/AIDS, and later as Special Assistant to the Executive Director. More recently, she has held UNFPA Representative posts in Tanzania and in South Africa. Before joining UNFPA, Dr. Onabanjo worked for Planned Parenthood as Programme Director and prior to this, she worked for the Ministry of Health in Nigeria.  Dr. Onabanjo holds a Bachelor's Degree in biology from the University of London and a Medical Doctor degree from the University of Zambia, in addition to a Master's Degree in Public Health from the London School of Hygiene and Tropical Medicine.
Tuesday, 9 March 2021 Day 2
Climate and Health: Empowering Women and Youth to Drive Climate Solutions
Hosted by Pathfinder International
Pathfinder International has partnered with AMREF Health Africa to host a session on Climate Change and Public Health – bringing the key intersecting issues to the forefront, outlining the urgent multisectoral action needed to strengthen health systems and addressing the growing burden of climate change on communities in order to promote health security.
Healthcare does not exist in isolation of social, political, and environmental factors that influence our societies. Health systems cannot be effective if we do not acknowledge and prepare for risks and pressures outside the health system itself. Climate change is one of the most imminent challenges to the health and well-being of people across the world, especially Africa. As climate change events grow in frequency and intensity, it becomes harder for many populations to get the basic food and water resources they need – thereby increasing susceptibility to disease.
Despite being a global challenge, the repercussions of climate change disproportionately affect Low- and middle-income countries (LMICs), including many African countries. This session will highlight existing efforts and growing plans to address the impact of climate change on health across Africa. The session will focus on the importance of women's leadership in addressing issues of climate locally, regionally and nationally; youth advocacy for climate justice; and issues surrounding climate change and its impact on the health and well-being of young people in Africa.  Global health organizations will be encouraged to join the conversation to learn ways they can integrate climate change advocacy, implementation and leadership into their programs.
Tuesday, 9 March 2021 Day 2
Town Hall: Youth leading the future of Africa
Hosted by UNFPA
SDG Goal #3 seeks to ensure healthy lives and wellbeing for all at all ages. It aims to address issues of maternal mortality, new HIV infections, unmet need for family planning, adolescent births, and universal health coverage, among other things by 2030. Achieving this goal nonetheless calls for  nations and stakeholders in the region to leverage on youth leadership given that over 70% of the population comprises young people below the age of 35 years. In the spirit of leaving no one behind and reaching the furthest behind first, the session will provide an opportunity for young people in the region to engage and share their experiences on successes, challenges and opportunities to advance youth leadership in the health space in line with the mantra "Nothing for us without us".