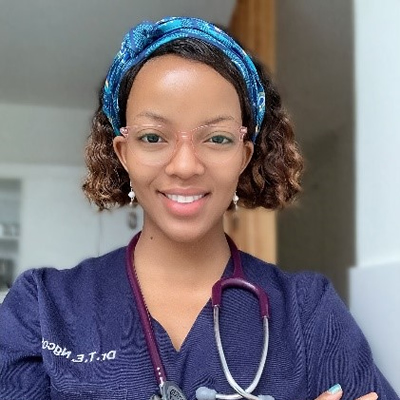 Dr. Thandeka Ngcobo
Medical Doctor; Executive Board Member, Godisanang Youth Empowering Foundation; Corporate Affairs Officer, Ngcobo Empire
Dr. Thandeka Ngcobo is a charismatic young medical doctor from KwaZulu Natal, South Africa, who beat the odds and continues to bloom wherever she is planted. She is registered with the Health Professions Council of South Africa (HPCSA) as an Independent Medical Practitioner and currently practices as a Medical Officer at Rietvlei District Hospital. She completed her matric at the age of 17 and went on to pursue her medical studies at the University of KwaZulu Natal where she graduated with a Bachelor of Medicine & Bachelor of Surgery.  When she isn't treating patients she serves as the Corporate Affairs officer at Ngcobo Empire; an Afrocentric multimedia company. Her latest business venture is the acquisition of Maguya Steel (Pty) Ltd; A steel manufacturing company, in which she is the majority shareholder. The company aims to recruit more women into the construction industry. Dr Ngcobo is also a board member of the Godisanang Youth Empowering Foundation, an NPO helping to develop various rural communities and empower other young people. Having been a teenage mother herself she remains vocal about issues of teenage pregnancy and preparations to launch her very own Non-Profit Organization are underway. She is one of the 2018 Top 100 Young Leaders from the SADC region and 2018 Mail & Guardian Top 200 Young South Africans who are inspiring change and greatness. She would like to be known as one of the young professional women who followed her dreams and made it against all odds, a Medical practitioner who is always prepared to serve beyond her line of duty to inspire and grow Africa. 
Tuesday, 9 March 2021 Day 2
Plenary 2: Build Back Better: Health Security Beyond COVID-19
The COVID-19 pandemic has revealed how glaring gaps in health security and health systems preparedness can fail to prevent the spread of disease outbreaks. To ensure Africa does not have to face the crippling effects of another pandemic, we need a well-planned and integrated response to improving health security and building healthy societies. This plenary will focus on how governments, private sector entities, civil society organizations and development partners need to put in place long term, country-led strategies to prevent another widespread disease outbreak and ultimately build back better post-COVID-19. This plenary will make the case for urgent, concrete action for governments and health leaders to take in order to strengthen health systems, prepare and protect populations from future disease outbreaks; highlight existing response and preparedness strategies to mitigate the risks of future disease outbreaks and build resilient health systems; and call upon health leaders, policy makers, pan-African organizations, academic and research institutions, and global organizations to commit to disease outbreak preparedness and recovery measures.