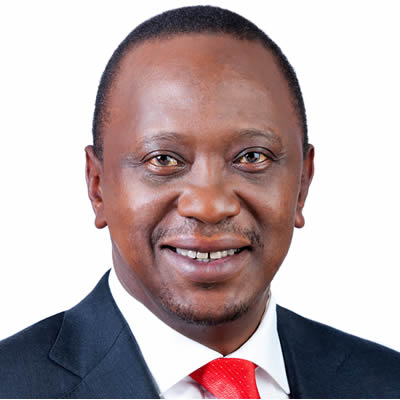 H.E. President Uhuru Muigai Kenyatta
The President of the Republic of Kenya
President Uhuru Kenyatta is Kenya's Forth President.
He has previously served as nominated Member of Parliament, Leader of Opposition, Minister for Local Government and Deputy Prime Minister & Minister of Finance.
Since taking office in 2013, President Kenyatta has often alluded that Kenya's greatest resource is her people and has pursued a number of policy initiatives aimed at building this valuable human resource. One of these initiatives is the roll out of the country's new Competency Based Curriculum (CBC) intended to nurture talents of young learners. Additionally, the government has ensured the implementation of a hundred per cent transition to secondary school.
On Technical and Vocational Education and Training (TVET), President Kenyatta has continuously emphasized that technical and vocational training will equip the youth with requisite skills that will enable them to use their knowledge and talents to secure gainful employment in the increasingly competitive job environment.
Furthermore, the government has commissioned innovation hubs and setup of the Ajira Digital Programme aimed at empowering over one million young people to access digital job opportunities.   Additionally, he has challenged young Kenyans to develop innovations aligned to the country's development agenda and transform the lives of ordinary Kenyans.
On assuming his second term of office in 2017, President Kenyatta's administration has prioritized universal healthcare, housing, industrialization, and agriculture, dubbed the 'Big Four' as key focus areas of the government's efforts for development.
President Kenyatta serves as the Global Champion of the Young People's Agenda. This initiative, a partnership between the United Nations Youth Strategy 2030 and Generation Unlimited, aims at catalysing pro-youth actions to address the dreams, ambitions and hopes of 1.8 billion young people globally.
He is also current chair of the African, Caribbean and Pacific Group of States (ACP), composed of 79 African, Caribbean and Pacific states, with 48 countries from Sub-Saharan Africa, 16 from the Caribbean and 15 from the Pacific.
President Kenyatta was recently appointed as Chair of the African Leaders Malaria Alliance (ALMA) is a coalition of 49 Heads of State and Government established to drive accountability and action for results against malaria, NTDs, RMNCAH and nutrition.
At the regional and continental level, President Kenyatta has been on the forefront of promotion of peace and security in the region and has been a strong advocate on intra-Africa trade as means of spurring development and positioning Africa as a global trade player.
Monday, 8 March 2021 Day 1
Fireside Chat: Politics for Good - Leading the UHC Agenda with Conviction
The fireside chat will be an informal discussion between African Ministers of Health, who have stood tall in the face of adversity and set out on paths that few others would have the courage to take. It will feature inspirational leaders in conversation, providing a platform to share experiences and learnings of advancing the Universal Health Coverage (UHC) agenda, inspire participants, and set the scene for the plenaries and sessions to follow.