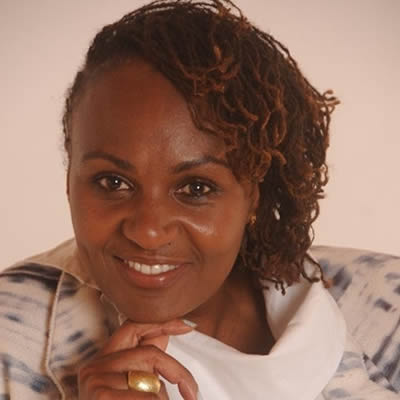 Wariko Waita
Head of Program Communications at the Mastercard Foundation
Wariko Waita is currently the Head of Program Communications at the Mastercard Foundation overseeing storytelling across Africa with a focus on skilling young people, in particular young women, for work.  She works closely with the expansive Scholars Program to steward and document stories of success. She previously worked as the lead Philanthropy and Partnerships Africa, Amnesty International London.  She additionally worked as the Communications and Membership Advisor for Amnesty Kenya where membership focused on youth. Wariko Co - founded Impact Pathways Solutions and has worked with clients such as UNDP, Kenya Red Cross Society, The County First Ladies Association and Global Fund on communications, training, fundraising and sustainability initiatives.  Prior, she was the Director-External Relations and Resource Mobilization for the Kenya Red Cross Society (KRCS) a recognized Super Brand in East Africa where she coordinated external relations and resource mobilization for the group.  Wariko was formally the Director of Development and Partnerships at Future Generations University in New York. Prior to that, she was a Director of Development and Partnerships, with Global Fairness Initiative in Washington D.C. She also worked in the same capacity at Bugando Medical Centre in Mwanza, Tanzania. Her work in development and philanthropy was honed at World Neighbors where she worked both as Kenya Country Director and later in the USA as part of the fundraising team.  She has been a certified equities dealer with the Nairobi Stock Exchange and a Chevening scholar. She holds an MBA, Finance from Leeds University UK and a BSc, Biology from Concordia University in Canada. She is a beekeeper and an organic farming enthusiast.
Tuesday, 9 March 2021 Day 2
Zero Malaria Starts with Me - Draw the Line Against Malaria
Hosted by Malaria No More UK
Draw the Line Against Malaria campaign is a new youth chapter of the pan-African Zero Malaria Starts With Me campaign that calls on young people across Africa to unite and fight malaria by driving more action, more innovation, more funding and more leadership to end this disease within a generation and save lives.
This session will discuss at length the role young people can play in the fight against malaria in Africa while also looking at the global progress on malaria, African governments commitments on malaria and finally dissemination of the Draw The Line Against Malaria campaign.
Insufficient investment in the health sector or in actions to tackle the environmental and social determinants of health is a serious obstacle to improving health outcomes in Africa, particularly considering that the continent bears the bulk of the global morbidity and mortality burden of priority diseases like Malaria.  We acknowledge that active engagement of the youth in Africa towards the fight against malaria is now even more important at a time when Africa's attention and effort is drawn towards achieving UHC.