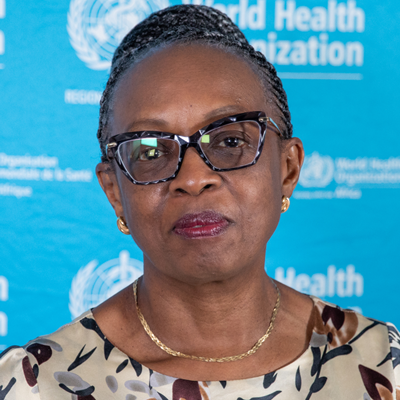 Dr Matshidiso Moeti
World Health Organization (WHO) Regional Director for Africa
Dr Matshidiso Rebecca Moeti is the World Health Organization (WHO) Regional Director for Africa. She is the first woman to be elected to this position and is now in her second term. Over the past six years, Dr Moeti has led a Transformation Agenda that is widely acknowledged to have improved WHO's performance on emergencies, enhancing accountability, and driving progress towards Universal Health Coverage. She leads WHO's support to the COVID19 pandemic response in Africa.
Dr Moeti is a medical doctor and public health expert, with more than 42 years of experience.
Under her leadership, tremendous progress has been made. Wild poliovirus was kicked out of Africa in 2020 – this is the second disease to be eradicated from the Region after smallpox 40 years ago. Investments in areas such as surveillance, training, innovation, community engagement and partnerships, have improved country capacities to prepare for and respond to health emergencies, and outbreaks of diseases like COVID-19 and Ebola. More broadly, recognition of the need for strong and resilient health systems to manage external shocks, like health emergencies, is building. Most African countries are pursuing reforms to achieve Universal Health Coverage – to expand access to services with attention to equity and reaching the most vulnerable people.
Since 1999 she has held several senior positions with WHO in the African Region. Dr Moeti successfully led WHO's "3 by 5" Initiative to expand access to antiretroviral therapy in African countries. Prior to joining WHO, Dr Moeti worked with UNAIDS, UNICEF and Botswana's Ministry of Health.
In recognition of her excellent service to humanity, Dr Moeti has received many accolades and honorary fellowships from renowned academic intuitions. She is a great champion for women in leadership in global health.