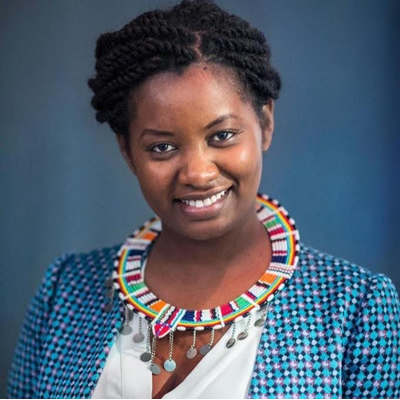 Nice Nailantei Leng'ete
Global Anti-FGM Ambassador, Amref Health Africa
Nice Nailantei Leng'ete, 30, is an advocate for the health and rights of girls and women. She is the Global End FGM/C Advisor for Amref Health Africa, the largest African-led international organization on the continent, and founder of The Nice Place, a Leadership Academy & Rescue Centre for girls built in her home community in Kajiado County, Kenya. Ms. Leng'ete is the recipient of numerous international awards for her commitment to working within communities to promote gender equality and end harmful practices such as female genital mutilation/cutting (FGM/C) and child marriage, including: the TIME100 list of the most influential people in the world; the Postcode Hero Award;  the 100 Most Influential Young Africans; the BBC Outlook Inspirations Award; the Annemarie Madison Prize; and, the Inspirational Woman of the Year Award from the Kenyan Ministry of Devolution. She is also a recipient of the Mandela Washington Fellowship for Young African Leaders and Women Deliver Young Leaders. To date, Ms. Leng'ete and Amref Health Africa have helped more than 20,000 girls avoid female genital mutilation/cutting in Kenya and Tanzania through community-led Alternative Rites of Passage programs.
Tuesday, 9 March 2021 Day 2
Town Hall: Youth leading the future of Africa: Advancing Sexual & Reproductive Health and Rights Hosted by UNFPA
Hosted by UNFPA
Sexual and Reproductive Health and Rights (SRHR) enable a wide range of health services for all youth, which include access to reproductive health services and information, as well as freedom from discrimination. While great strides have been made in the field of SRHR, marginalized groups such as youth, indigenous people, people with disabilities and LGBTQIA+ people are often left behind. This session will put the rights, voices and choices of youth at the center of the conversation around SRHR and UHC, focusing on the importance of ensuring that public health policies and programs account for the diverse SRHR needs of young people.