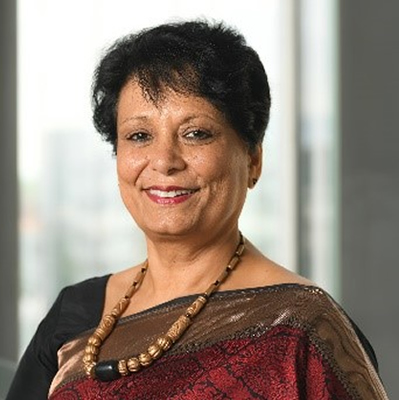 Anuradha Gupta
Deputy CEO, Gavi, the Vaccine Alliance
Anuradha Gupta is Deputy Chief Executive Officer of Gavi, the Vaccine Alliance. Since joining Gavi in 2015, Anuradha has led efforts to put equity and gender at the centre of Gavi's programmatic planning and to tailor support to countries within Gavi's strategy. She has also driven efforts to create a new model of country-level Alliance support, through the establishment of the partners' engagement framework (PEF). At the same time, Anuradha has helped to improve country ownership and leadership of Gavi-supported programmes while enhancing accountability for results. In 2019, Gavi received the prestigious Lasker~Bloomberg Public Service Award for providing sustained access to childhood vaccines in the world's poorest countries, saving millions of lives and highlighting the power of immunisation to prevent diseases. Prior to Gavi, Anuradha served as Mission Director of the National Health Mission of India, where she ran the largest – and possibly most complex – public health programme in the world with an annual budget of US$ 3.5 billion. A passionate and influential advocate of women, young girls and children, Anuradha played a leading role in India's efforts to eradicate polio transmission, reduce maternal and child mortality and revitalise primary health care. Anuradha has contributed towards a number of important global health initiatives. She served as a member of the Steering Committee for Child Survival Call to Action, co-chaired the Stakeholder Group for the 2012 London Summit on Family Planning and was a member of the Family Planning 2020 (FP2020) Reference Group. Anuradha served as Co-Chair of the Partnership for Maternal, Newborn & Child Health (PMNCH) and is currently a member of the PMNCH Board. She also played a role in shaping the Global Financing Facility (GFF) and is a member of the GFF Investors Group. From 2015-2018, Anuradha served on the Merck for Mothers Advisory Board. Anuradha holds an MBA from the University of Wollongong in Australia and received executive education from the John F. Kennedy School of Government at Harvard University, Stanford Graduate School of Business and Maxwell School of Citizenship and Public Affairs at Syracuse University. In 2015, she was named one of "300 Women Leaders in Global Health" by the Global Health Centre of the Graduate Institute of International and Development Studies.
Monday, 8 March 2021 Day 1
Breaking Barriers: Gender-inclusive health and leadership in Africa
Hosted by Amref Health Africa
Women's health is vital to advance broader health and development goals across Africa, yet women themselves – especially African women – are underrepresented in leadership and decision-making across global and national health institutions, while women's health is often deprioritized or underfunded compared to other health issues. Furthermore, the COVID-19 pandemic has shown us that gains made in women's health are being threatened, especially when it comes to sexual and reproductive health and rights (SRHR) and maternal, newborn and child health (MNCH).
Taking place on International Women's Day, this session will elevate the discourse on women in global health – focusing on both women as leaders and women as beneficiaries of health programs and funding. The session will provide a platform to highlight the vital role that women leaders have played in addressing health challenges, such as the COVID-19 pandemic – from policymaking and technical leadership to scientific research and development. It will also shine a spotlight on women's involvement in health policies and decision-making (particularly for women's health, SRHR and MNCH) as well as the gaps in women's leadership and influence that must be addressed. Conversations will encourage greater collaboration and coordination among stakeholders around advancing a gender-equitable approach to Universal Health Coverage (UHC), and reiterate the need to prioritize funding, policies and programs that meet the health needs of women and girls, as part of countries' UHC plans and investments.
The moderator will also engage the speakers to discuss the importance of dismantling barriers for young women leaders. Speakers will be asked to share personal experiences and insights of the barriers they faced (or continue to face) in their careers, how they have overcome gender barriers, why these challenges remain, and what women leaders and their allies can do to help change the playing field for the next generation of women leaders.