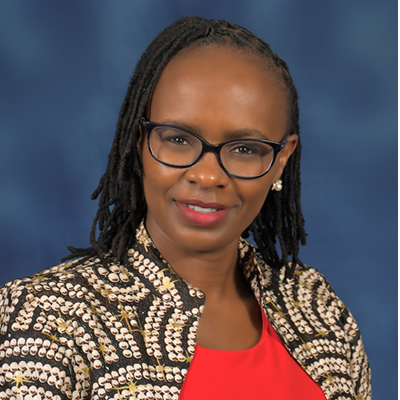 Dr. Esther Njoroge-Muriithi
Advisory Group Member, Civil Society Engagement Mechanism for UHC2030; Vice President, Smile Train
Dr. Esther is Smile Train's Vice President and Regional Director for Africa, a position she has served for 5+ years. During her tenure, the programs have grown in scale, spanning 40 countries with 254+ partner hospitals and reaching over 128,000 patients; increasing access to comprehensive cleft care while improving safety and quality. Dr. Esther spearheaded the formation of the Africa Medical Advisory Council, formed for the first time in 2019. Through her leadership, Smile Train Africa is now accredited as an International Training Centre for American Heart Association's BLS and PALS. Responsible for the strategic direction of Smile Train in Africa, Dr. Esther oversees the growth and stewardship of Smile Train's partnerships and programs across all of Africa. She represents Smile Train on the Civil Society Engagement Mechanism (CSEM) Advisory Group for UHC2030 and has served in Technical Working Groups developing National Surgical, Obstetric and Anesthesia (NSOAP) plans in Kenya and SADC region. As a passionate global health advocate, she has spoken at several major advocacy events and conferences including UNGA73 side event and the Civil Society Town Hall with WHO DG, Dr. Tedros in May 2020. She was awarded Business Daily's Top40Under40 women in 2016 and she serves on the board of her Rotary Club. Dr. Esther is passionate about children and their health, an important pillar in her commitment to Smile Train. 
Wednesday, 9 March 2021 Day 3
Plenary 3: Our Health, Our Rights: UHC and Accountability for All
In September 2019, only several months before COVID-19 swept across the world, leaders committed to achieve UHC in a key declaration that underscored the right to health for all. Today, with millions of people affected by the pandemic, the need to ensure the health and rights of all individuals has never been more urgent. If we are truly to achieve Health for All, we must hold leaders accountable to their commitments. This session will focus on the need for stronger accountability to drive tangible progress when it comes to delivering the right to health for all. This plenary will hold countries accountable to their UHC promises and ensure that programs are designed to be both effective and financially sustainable; highlight countries who have made strong commitments to UHC and followed through; and discuss the existing health laws in place that are legally backing UHC and the level of awareness, or lack thereof, that populations have around these laws.