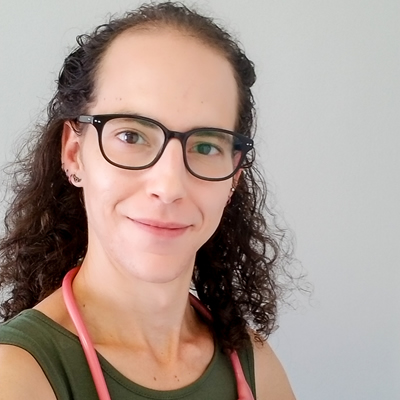 Dr. Anastacia Tomson
Medical practitioner, LGBT health rights activist, South Africa
Anastacia Tomson is a medical doctor, author, and activist in the field of LGBTQIA rights. A queer-identified woman herself, Anastacia uses her lived experience and professional training to inform her work in educating and spreading awareness around SOGIE minorities. Her activism work sees her engaging with the general public, with parent- or ally groups, with cultural communities, with NGOs and governmental agencies, and with LGBTQIA populations directly. She advocates for improving access competent care for queer-identified people in South Africa. She regularly works with such varied groups as the University of Pretoria's Centre for Human Rights, the UNDP, the South African Judicial Education Institute, as well as regularly lecturing undergraduate medical students at UCT on issues of gender, and SOGIE minorities. Working together with compounding pharmacists, Anastacia was instrumental in driving the process for making injectible estradiol valerate, the international gold-standard for feminsing gender affirming hormone therapy for trans patients, available in South Africa. Anastacia's globally-available 2016 memoir, Always Anastacia, offers a candid, intimate window into her experiences, with the hope of cultivating understanding, compassion and empathy towards diverse identities. Among her accolades, she has been recognised as a Mandela Washington Fellow, as one of the Mail & Guardian's 200 Young South Africans, and as one of The Young Independents' Mzansi 100. She has also been published in the peer-reviewed, open-access South African Journal of Bioethics and Law, on the subject of medical ethics in gender-affirming care. Experienced both in public-sector healthcare and in clinical trials, Anastacia now offers primary care services in the private sector in her home town of Cape Town, South Africa. When she's not at work, she can often be found cooking up a vegan storm in her kitchen, or out running on a scenic trail.
Wednesday, 9 March 2021 Day 3
Plenary 3: Our Health, Our Rights: UHC and Accountability for All
In September 2019, only several months before COVID-19 swept across the world, leaders committed to achieve UHC in a key declaration that underscored the right to health for all. Today, with millions of people affected by the pandemic, the need to ensure the health and rights of all individuals has never been more urgent. If we are truly to achieve Health for All, we must hold leaders accountable to their commitments. This session will focus on the need for stronger accountability to drive tangible progress when it comes to delivering the right to health for all. This plenary will hold countries accountable to their UHC promises and ensure that programs are designed to be both effective and financially sustainable; highlight countries who have made strong commitments to UHC and followed through; and discuss the existing health laws in place that are legally backing UHC and the level of awareness, or lack thereof, that populations have around these laws.