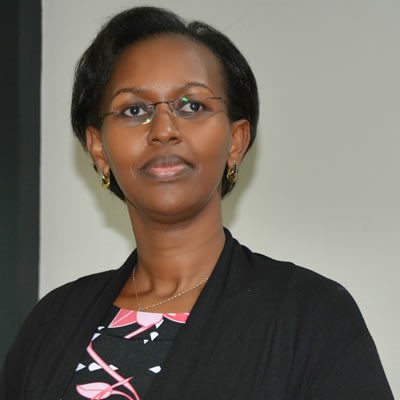 Dr. Hakiba Solange, MD, MPH
Former Deputy Director-General of Rwanda Social Security Board
Dr. Hakiba Solange is currently the Chief of Party for the USAID-Rwanda Integrated Health Systems Activity (RIHSA) designed to support health system strengthening through the specific axes of increased financial protection and increased access to quality essential health services.
Prior to this position, Dr. Hakiba served the Government of Rwanda in several leadership positions such as the Deputy Director General in charge of Social Security Benefits in the Rwanda Social Security Board (RSSB). As such, she strategically managed five (5) schemes among which the Old-age pension scheme and two health insurance schemes respectively designed for the formal sector (enrolling both public and private sectors) and the informal sector (community-based health insurance). She also chaired national Rwanda Health Insurance Association for a period of three (3) years. Prior to this, Dr Hakiba served as the Permanent Secretary in the Ministry of Health and Chief Budget Manager for the national health sector.
Her experience spans from policy and strategy development in government and international organizations leadership positions, in addition to working for/with Civil Society organizations operating in health and women/ girls empowerment.
Monday, 8 March 2021 Day 1
Roundtable: Launch of the AHAIC Report on the State of UHC in Africa
To ensure that Africa is on track in progressing towards the achievement of UHC targets by 2030, Amref Health Africa has established an independent commission tasked with reviewing progress and providing recommendations on leadership, accountability, technology/innovation, and health security, to help guide the continent towards these targets. As part of its mandate, the AHAIC Commission on the State of UHC in Africa will share a State of UHC in Africa Report, which will map the progress of African countries towards their UHC goals. The report will also reflect on successes, barriers and lessons learned on the journey towards providing equitable access, quality health care and financial protection in Africa. This session will feature a moderated roundtable, where Commissioners will share and discuss the findings of the report.