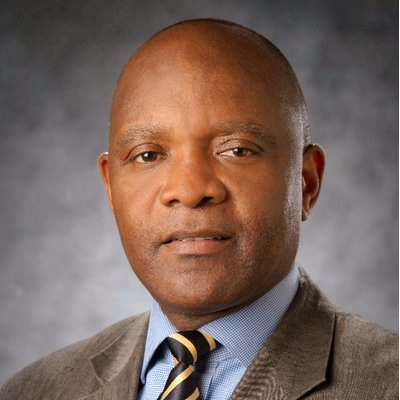 Dr. John Nkengasong
Director, Africa Centres for Disease Control and Prevention
Dr John Nkengasong serves as Director of the Africa Centres for Disease Control and Prevention, a specialized technical institution of the African Union. Earlier this year, he was appointed as one of the WHO Director-General's Special Envoys on COVID-19 Preparedness and Response, and most recently was awarded the Bill and Melinda Gates Foundation's 2020 Global Goalkeeper Award for his contributions to the continental response in fighting the COVID-19 pandemic in Africa.
Dr Nkengasong is an authority on implementing HIV therapy in resource-challenged areas and a prolific author on the topics of HIV diagnosis, pathogenesis, and drug resistance. Prior to his current position, he served as Acting Deputy Principal Director of the Center for Global Health and Chief of the International Laboratory Branch, Division of Global HIV and TB for the US Centers for Disease Control and Prevention (CDC).
He serves on several international advisory boards including the Coalition for Epidemic Preparedness Initiative – CEPI, the International AIDS Vaccine Initiative (IAVI) among others. He has authored over 250 peer-review articles in international journals and published several book chapters.
Monday, 8 March 2021 Day 1
Opening Ceremony
Tuesday, 9 March 2021 Day 2
Plenary 2: Build Back Better: Health Security Beyond COVID-19
The COVID-19 pandemic has revealed how glaring gaps in health security and health systems preparedness can fail to prevent the spread of disease outbreaks. To ensure Africa does not have to face the crippling effects of another pandemic, we need a well-planned and integrated response to improving health security and building healthy societies. This plenary will focus on how governments, private sector entities, civil society organizations and development partners need to put in place long term, country-led strategies to prevent another widespread disease outbreak and ultimately build back better post-COVID-19. This plenary will make the case for urgent, concrete action for governments and health leaders to take in order to strengthen health systems, prepare and protect populations from future disease outbreaks; highlight existing response and preparedness strategies to mitigate the risks of future disease outbreaks and build resilient health systems; and call upon health leaders, policy makers, pan-African organizations, academic and research institutions, and global organizations to commit to disease outbreak preparedness and recovery measures.
Wednesday, 9 March 2021 Day 3
Closing Session & Awards Ceremony
Key outcomes of conference and AHAIC 2021 resolutions
Desta Lakew, Global Director of Partnerships and External Affairs, Amref Health Africa
Awards ceremony
Presented by Dr. Githinji Gitahi, Group CEO, Amref Health Africa
Awards will be presented for the following categories:
Global Health Leadership
Africa Health Leadership on COVID-19
Journalism: COVID-19 coverage
Closing remarks
Dr. John Nkengasong, Director, Africa Centres for Disease Control and Prevention