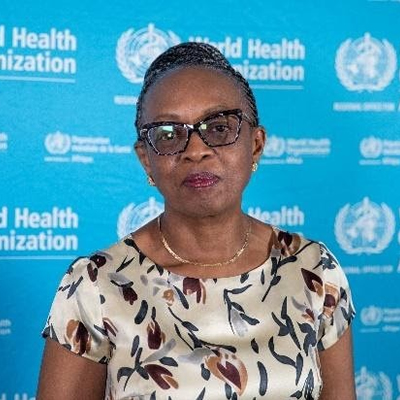 Dr Matshidiso Moeti
Regional Director for Africa, World Health Organization
Dr Matshidiso Rebecca Moeti is the World Health Organization (WHO) Regional Director for Africa and the first woman to occupy this position. She was recently confirmed by the WHO Executive Board after her resounding re-lection for the second term. Over the past five years, Dr Moeti has led a Transformation Agenda that is widely acknowledged to have improved the performance and effectiveness of the Organization. She made tremendous progress through the Transformation Agenda, which include improved response capacity to health emergences like COVID-19 pandemic and Ebola virus outbreak. The flagship of the Transformation Agenda has been the successful eradication of wild polio virus in the African region. The Transformation Agenda has since been adopted to inform WHO global reforms
Dr Moeti is a medical doctor and public health expert, with more than 40 years of national and international experience. She has worked with the WHO Regional Office for Africa, where she has held several senior positions, since 1999. Dr Moeti successfully led WHO's "3 by 5" Initiative in the African Region, which aimed to expand access to antiretroviral therapy in countries. Prior to joining WHO, Dr Moeti worked with UNAIDS as the Team Leader of the Africa and Middle East Desk in Geneva, with UNICEF as a Regional Advisor, and with Botswana's Ministry of Health in various capacities.
In recognition of her excellent service to humanity, Dr Moeti has received many accolades including an Honorary Fellowship from London School of Hygiene & Tropical Medicine and an Honorary Doctorate of Science from the University of Health and Allied Sciences in Ghana. She is a great champion for women in leadership in global health.
Monday, 8 March 2021 Day 1
Women in Innovation: Providing leadership, creating solutions and driving change
Hosted by IFPMA; Co-sponsored by International Chamber of Commerce (ICC), Global Innovation Policy Center (GIPC), and The Innovation Council
Innovation is crucial to identifying solutions to achieve the UN sustainable development goals (SDGs). Implementation of the SDGs requires all stakeholders to play their part. This International Women's Day, women from diverse sectors, different countries and with distinct innovation models, will come together throughout the world to share their journey and how they are working to provide real life solutions. Many of them will have made an impact in their communities, or regionally and/or globally, through thinking differently and driving change through innovation and creativity. We want to celebrate your personal stories, and to highlight how you have impacted lives. And, above all, we want you to inspire future innovators, creators, engineers, and scientists.
Tuesday, 9 March 2021 Day 2
Plenary 2: Build Back Better: Health Security Beyond COVID-19
The COVID-19 pandemic has revealed how glaring gaps in health security and health systems preparedness can fail to prevent the spread of disease outbreaks. To ensure Africa does not have to face the crippling effects of another pandemic, we need a well-planned and integrated response to improving health security and building healthy societies. This plenary will focus on how governments, private sector entities, civil society organizations and development partners need to put in place long term, country-led strategies to prevent another widespread disease outbreak and ultimately build back better post-COVID-19. This plenary will make the case for urgent, concrete action for governments and health leaders to take in order to strengthen health systems, prepare and protect populations from future disease outbreaks; highlight existing response and preparedness strategies to mitigate the risks of future disease outbreaks and build resilient health systems; and call upon health leaders, policy makers, pan-African organizations, academic and research institutions, and global organizations to commit to disease outbreak preparedness and recovery measures.