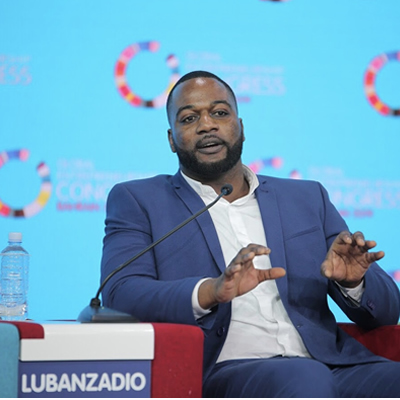 Emmanuel Lubanzadio
Head of Public Policy for Sub-Saharan Africa, Twitter
Emmanuel Lubanzadio is the Head of Public Policy, Government & Philanthropy for Sub-Saharan Africa on Twitter's Public Policy EMEA Team. Twitter Public Policy focuses on policy issues posed by the continuing spread of digital technology and web-based communications services around the world. These issues range from freedom of expression, online safety, copyright, privacy, and Internet freedom. In the context of civic events such as elections, Public Policy ensures that political actors find a natural home on Twitter. The Policy team also manages and directs Twitter's corporate social responsibility work by collaborating with NGOs active in the areas of freedom of expression, online safety, and emergency disaster recovery.
Prior to joining Twitter, Emmanuel spent his professional tenure in the realm of International Development, and Government Relations in Germany, Ghana, and the U.S. He holds a B.A. in International Relations, a Graduate Certificate in Applied Politics and a M.A. in International Development.
Wednesday, 9 March 2021 Day 3
Effective Communication to Combat Health Misinformation
Hosted by Amref Health Africa
With the rapid growth of mobile technology use in Africa, as well as the rise of social media, information can spread faster than ever before. While there have been many benefits to increased mobile access and digital communication, there are also downfalls. For example, in our increasingly interconnected world, the COVID-19 pandemic has been accompanied by misinformation and rumors about the disease – including its origin, transmission, prevention, symptoms and spread. Since the start of the pandemic, COVID-19 misinformation has quickly moved through communities in Africa and around the world. This session will discuss the need to combat health skepticism and misinformation with compelling, evidence-based information; highlight challenges as well as effective strategies to address misinformation; and reinforce the importance of targeted communications to raise awareness on key health issues.