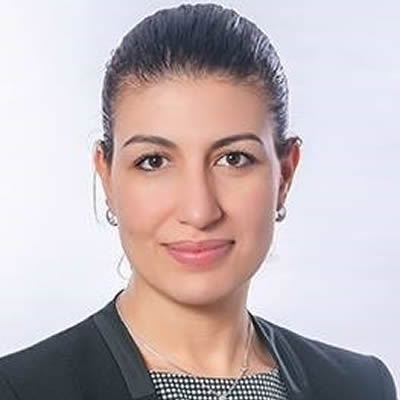 Imene Ben Abdallah
General Manager, Roche Tunisia & Libya
Imene Ben Abdallah is the country manager for Roche in Libya and Tunisia. Roche has a 120-year legacy as an innovative healthcare company which provides sustainable access to diagnostics and treatments. A pharmacist by training, Imene is passionate about how Roche can have an impact on its environment. Throughout her career, she has had a firm focus on improving health and working toward a future where every African can access world-class healthcare. She is committed to working with stakeholders across the healthcare ecosystem to correct unacceptable inequities in care by strengthening health infrastructure, increasing sustainable funding and enabling access to innovative diagnostics and treatments. During her career, Imene has worked within a number of positions within different healthcare organizations. She began her career in marketing with a local Tunisian pharma company, where she got the opportunity to learn about the local market, its challenges and opportunities. She then took a role in pricing and market access with a multinational consultancy company that opened up new perspectives and allowed her to work in developed markets, understand payers' needs and how to accelerate access to innovative drugs. Imene's career at Roche began six years ago and since then she has held positions in Regulatory affairs, market access, medical affairs and strategic health initiatives before her current role as country manager. Imene earned both her Doctor of Pharmacy and Master of Science in Drug Development degrees from Faculté De Pharmacie de Monastir in Tunisia. Her areas of expertise range from policy, pricing, and market access.
Tuesday, 9 March 2021 Day 2
Launching the FutureProofing Healthcare Africa Sustainability Index
Hosted by Roche
The FutureProofing Healthcare Africa Sustainability Index aims to take an objective view of how health systems are performing today and begin to prepare them for the future. Through publicly-available data, the Index examines the fundamental drivers of sustainable healthcare systems, compares approaches between countries, identifies elements that lead to more sustainable care and promotes best practices through a future-focused discussion of real-world solutions. This session serves as the global reveal of the first Africa Sustainability Index, which reviewed data across 18 markets in Africa across major vital signs including access, financing, innovation and quality. The Index is supported by Roche and overseen by a panel of independent healthcare experts from across the continent. The Africa Sustainability Index is all the more relevant in the face of the COVID-19 pandemic as we work to better understand the resilience of healthcare systems when dealing with major shocks like this one.