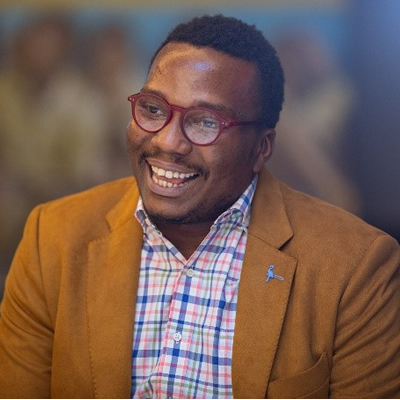 Sobel Aziz Ngom
Executive Director, Social Change Factory
Sobel Aziz Ngom is the founder and executive director of Social Change Factory, as well as a founding member of the Consortium Jeunesse Senegal (Senegal Youth Consortium), which he has chaired since October 2020. Social Change Factory is a citizen leadership center created in 2014, based on the idea that access to appropriate educational resources and professional development opportunities for young people is the key to their social mobility. 
 Sobel Aziz Ngom is a social entrepreneur who aims to transform the living conditions of Senegalese youth from passive recipients of state-sanctioned policies to active participants in shaping the policies that affect their lives. He conceives and implements local, regional, and continental initiatives, creating opportunities for partnerships with international organizations, including the European Union, UNICEF, and the MasterCard Foundation. These actions aim to empower young people, and have led to thousands of young people being informed, engaged, and equipped with the appropriate skills and values needed to create more inclusive and sustainable communities. In 2014, at the age of 23, Sobel A. Ngom was the youngest Senegalese participant in the first edition of the YALI program launched by President Barack Obama. As a result of being involved in the program and based on his commitment and vision, Sobel A. Ngom has since had the honor of being quoted as an example twice by President Obama. In 2016, Sobel A. Ngom received the Jambar Tech award for "Best Social Entrepreneur" of the year in Senegal for his program Voix des Jeunes (Voices of Youth), which has generated a total of fifteen million viewers across the sub-region. In 2018, Sobel A. Ngom was appointed to the Board of Directors of Generation Unlimited, a global partnership initiated by the United Nations that brings together a number of state, non-governmental and multinational authorities, all committed to the empowerment of young people around the world. Sobel A. Ngom was the only African leader under the age of 30 to serve on the committee. With his experience in areas related to youth development, Sobel A. Ngom has advised governments in Africa, as well as international foundations, some UN agencies, and private companies on their strategies for engaging and collaborating with youth.  Sobel A. Ngom is a graduate in Communications from the SupdeCo business school in Dakar and in Civic Leadership from Wagner College in New York. For the past ten years Sobel A. Ngom has often been invited to represent Senegalese and African youth in forums and major events around the world. While still young, Sobel A. Ngom has already received several national and international awards for his work and contribution to the empowerment of African youth. The most recent one was an invitation from Bill and Melinda Gates to join their GoalKeepers network as "champion" for ODD 4: Quality Education. Prior to founding Social Change Factory, Sobel A. Ngom worked for Ashoka Changemakers where he led the Africa Hub, a platform that brought together a network of over 2000 young Africans whom he helped guide and equip to carry out their missions as social entrepreneurs, while facilitating their access to opportunities for personal and professional development.
Tuesday, 9 March 2021 Day 2
Town Hall: Youth engagement and entrepreneurship
Hosted by Amref Health Africa
The African continent has the youngest population in the world – and it is rapidly growing. In 2015, African youth (aged 15-24) accounted for 226 million people; by 2055, this number is expected to more than double. Africa's demographic dividend creates a unique opportunity to widely engage a new generation of citizens to participate in the continent's development and growth. Youth-led programs that aim to engage and equip young persons with the relevant skills to influence policies and institutions are critical to harness this opportunity – and to foster environments in which African youth are given a chance to thrive and meaningfully contribute to their communities.
This Town Hall will be an informal, moderated Q&A session featuring a renowned youth leader and entrepreneur. The moderator will take questions from conference participants, submitted through the virtual platform's interactive chat. The AHAIC Town Hall series is intended to give participants the opportunity to engage with a high-level speaker on their career, professional journey, and areas of expertise and interest.