The Africa Health Agenda International Conference (AHAIC) 2023 came to a close on the International Women's Day with a colorful celebration of African women driving change through their visionary leadership in the global health space.
As stakeholders from all over the world marked the day with calls to #EmbraceEquity, delegates at the conference plugged into the global conversation by deliberating on key issues affecting health and wellbeing of women. These include enhanced sexual and reproductive health rights, the need for bodily autonomy and access to gender-responsive health systems, the power of investing in women-led health innovations, as well as the role of women in health and climate action.
Click HERE to read the full highlights.
Key Takeaways from Day 4:
Africa requires sustainable health systems that respond to the needs of entire communities, which can only be realised through innovation, collaboration and investments.
African countries must engage more diverse stakeholders in all aspects of programme design and implementation, leverage the social capital within communities and establish clear accountability frameworks to ensure we achieve the objectives of Universal Health Coverage.
To achieve global health goals, African nations must build and consistently invest in pro-UHC policies that provide a broader framework to address country-specific health needs.
It is imperative that civil society organisations collaborate to avoid duplication of efforts, wasted resources and disillusionment within communities. Civil society organisations also have a unique role to play in delivering health education within communities to support national efforts to strengthen primary health care.
Young people represent 60% of the continent's population and are at the forefront of innovative solutions to address the planetary health crisis. Countries need to be intentional about building their capacity and including youth in all spaces of consultation and decision-making to ensure their experiences and expertise inform Africa's response to current and future health and climate crises.
The fourth and final day of the conference also saw five African women recognised for their outstanding contributions to improving and safeguarding the health and wellbeing of women, children and entire communities at the AHAIC 2023 Women in Global Health Awards.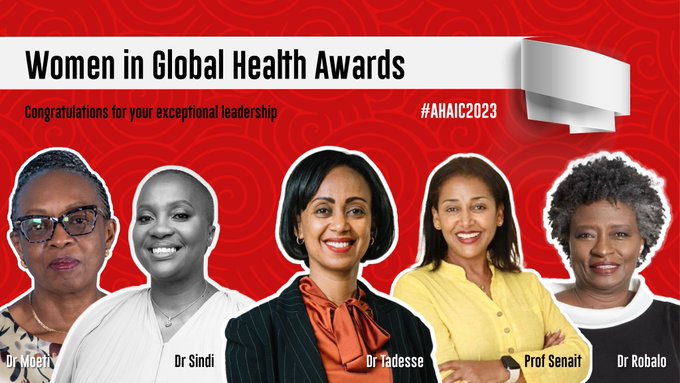 Congratulations once again to Dr. Sindi van Zyl – Physician, Radio DJ & Health Activist (posthumous award); Dr. Magda Robalo – President and co-founder, Institute for Global Health and Development; Dr. Senait Fisseha – Vice President of Global Programs, Susan Thompson Buffet Foundation; Dr. Lia Tadesse – Minister of Health, Federal Democratic Republic of Ethiopia, and Dr. Matshidiso Moeti – Regional Director, WHO AFRO.