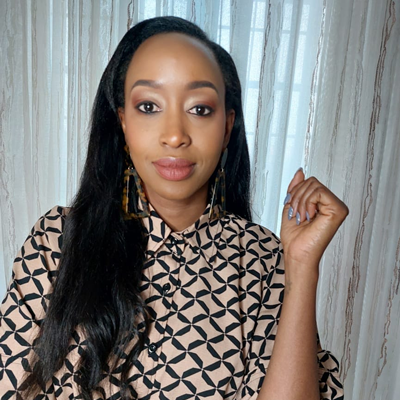 Ms Janet Mbugua
Media Personality, Author, Activist
Janet Mbugua is a Kenyan Media Personality and Gender Equality Advocate with a focus Menstrual Equality. She is a TV Host with experience as a News Anchor, Reporter Producer both in her country, Kenya and in South Africa. Her experience in Broadcast seen her cover the 2010 World Cup in South Africa, the 2007 and 2013 Kenya elections and the 2012 U.S Elections. She also covered the burial of global statesman Nelson Mandela, among the few journalists from Kenya covering this significant, historical event.
Janet is the founder of the Inua Dada Foundation, an organization whose mission is to  create a supportive and accessible environment primarily for schoolgirls, as well as women in Kenya by conducting research to identify issues that hinder learning and working collaboratively with strategic partners to implement sustainable solutions (http://www.inuadadafoundation.org).
With a focus on Menstrual Health Management (MHM), the organization has empowered thousands of girls and women over the years and held various media and advocacy events that have reached thousands in Kenya and beyond.
The organization is largely advocacy driven and has introduced the #InuaDadaVoices program that works with young people, training them on digital advocacy in addressing social injustices such as GBV. The Inua Dada Centre is working with women and girls from informal settlements, providing psycho-social support and access to information and products linked to Menstrual Health Management.
In 2020, Janet released her first book, 'My First Time', a collection of short stories from women, girls and men on their first interaction with menstruation. The book is a tool for a much-needed conversation around sexual and reproductive health and rights and a tool influence policy change around Menstrual Health and Hygiene Management.
Some of her achievements include:
● Host at the global Goalkeepers Summit in New York, September 2022, hosting a session featuring Melinda French Gates, Chimamanda Ngozi Adichie and other global SDG champions
● Official host for the Making More Health Convention 2022 in Ingelheim Germany
● Moderator for the Commonwealth Heads of Government (CHOGM 2022) session on Equity and Innovation for Africa's Recovery, interviewing Melinda French Gates and Chimamanda Ngozi Adichie.
● Presenting Kenya's First Lady Margaret Kenyatta with a copy of her book My First Time in 2022
● Interview with Lupita Nyong'o during her book reading for Sulwe, 2021
● Inua Dada Foundation being named Winner of the World Association for Sexual Health Innovation in Education Award, 2021
● Moderator for the Generation Equality Forum 2021, one of the few Kenyans participating in this capacity, globally.
● Moderator for the 76th UN General Assembly
● Being named as part of the International Gender Champions group in 2021
● MC/ Moderator for the opening and closing ceremony of the International Conference 2019 on Planning and Development (ICPD25) Summit 2019
● Being named one of the Top 25 Women In Digital Media in Kenya, in 2018
● Recipient of the Top 40 Under 40 Award by Business Daily Africa